This was a quick lesson I did with my littlest ones... they drive me mad but this was a better lesson, less noise - thank God.
I found a Memory match game online and in order to get them speaking - practicing numbers and alphabet letters, I projected the memory game online, and then with a whiteboard marker - across the top I wrote the letters for each column and down the side, numbers.
So when they wanted to turn over a card to make a match they had to use the alphabet and numbers to let me know which to turn.
I found it on the site :
Inside Out Games.com
After that, I asked what color each of the main character was - as they are pretty much color coordinated. Then we had to color the inside out characters.
I found the
coloring page online here.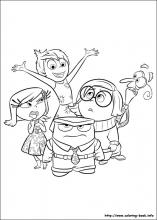 This took a good 20 mins with the little ones. And it was a nice way to review colors. They love the Inside Out movie so they were very excited. We also played and sang the Phonics song in the start.
Happy Teaching.