I've worked at a few different schools now with different textbooks and they all have at least one lesson on sickness/health , seeing a doctor, etc.
I have quite a few materials that I'd like to share with other teachers approaching or currently teaching this lesson. I've even used
some
of these materials for my adult classes (Teachers Training Program I direct) and they work well.
First off, see my previous posts :
I hope this helps!
1.
Great English and Korean sickness song.
I found this a while back, via my co-teacher. No idea where it came from but HUGE thanks to original poster, creator of the video, song and lyrics. This is an excellent song to start with. My 6th graders loved it so much last year that they chose to perform it for their English Festival item.
You can download my bundle free, it includes the video, mp3 and song lyrics.
2.
These web links for warm up / starters to review topic:
3. Mr. Bean Clips
In case you didn't know, Mr.Bean rocks. My students love him and as a cute and fun starter to a medical or sickness based lesson I like to show a few clips. There's one where is is at the hospital. One where he has a very unfortunate sneeze - "What's the matter? He has a runny nose". One where he eats old oysters because he's crazily stuffing his face at a hotel buffet ( so he gets food poisoning) "What's wrong? He has a stomachache."
4.
Doctor Surgery Role Play Pack on Twinkl.co.uk
They have some role-play printables that are fun , but more high level if you ask me. Still useful.
5. Peppa Pig Cartoon
This is a cute cartoon to show the young ones about sickness and doctor instructions. Plus is has subtitles.
6.
ESL Tower has free PDF files to print.
There's a pretty good sickness crossword available also.
7.
Making Doctors bags for role-play or projects
You can see the instructions on this page, scroll down a bit until you see the picture. You have to join the website if you want the bag pattern to print. (not free).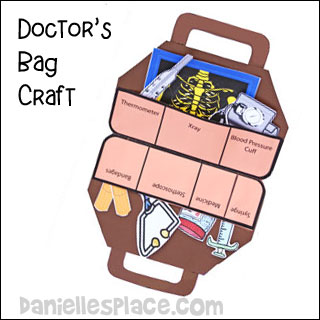 Hope these help.
Happy Teaching!