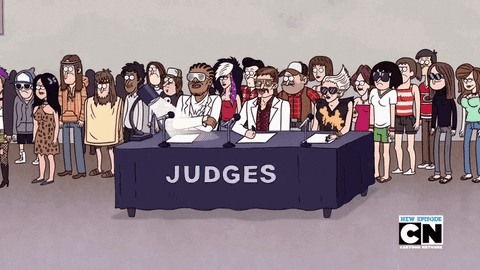 I have to keep my English Club fun and lively or the students won't bother to show up... and who can blame them? I've never been a fan of after school class as a child.
SO, in my most recent class I thought I'd teach a few words about singing and how to describe one's voice all while playing the role of competition judge - mimicking the likes of Simon Cowell, Paula Abdul and Randy Jackson.
I did a simple PowerPoint with the students first, with many pictures and transitions - to go over the basic vocabulary that we could use as judges.
You can download the Singing Competition PPT for free on my
Teachers Pay Teachers page
.
Here are a couple sample slides so you can get the idea... note: I used an internet translator to help with the Korean words that appear - you can simply delete if you want it all in English or have a check with your co-teacher if it's all ok. My students had no issues understanding though! Just warning you, I don't promise amazing Korean.
After the quick PowerPoint I wrote a bit on the board to remind them and get ready for our judging part. On the last slide of the PPT it has links to 4 different Singing Competition videos (X-factor, etc) the last video is actually a Korean show, with a little Korean girl singing.
Before watching each video, get the kids to write on cards - the numbers 1 -10. These will be their judging cards.
Next, play the videos and after each one ask your judges what points they give the singer. Then encourage them each to make a sentence from the vocabulary you studied in the PowerPoint.
If your students are shy to speak , point to the board and sentences and ask them "Does she have a soft voice?" , etc.
Hope you have a good class!
Happy Teaching!